Derby Menu 2021
April 28, 2021 until May 01, 2021
We can't have the party we normally would, so we're hosting a culinary celebration of the land of Bluegrass and Bourbon.
Join us for Maxie's 14th annual celebration of the Kentucky Derby, Wednesday, April 28–Saturday, May 1. We're switching out our entire menu for a slate of Derby party favorites, served in-house and for curbside to-go from 4-9 p.m. We're mixing up Mint Juleps, Oaks Lilys, and Derby Teas. (Regular menu items may not be available during Derby Menu; fish fry will not be available April 30)
This year, RESERVATIONS are available, recommended, and expected to sell out, as we serve in accordance with our safety plan. Call 414-292-3969 inquire about availability.
We'll have extra televisions to show the Kentucky Oaks, America's premier race for fillies (lady horses), on Friday, April 30 at approximately 4:50 p.m. On Saturday, May 1, the tradition is back with the 147th running of the Kentucky Derby at approximately 5:50 p.m. Reservations made prior to the race on May 1 will be reserved again for another party at a later time.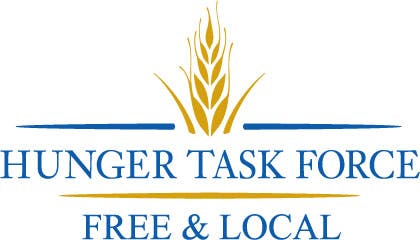 10% of sales from Wednesday, April 28 through Saturday, May 1 will go to our partners at the Hunger Task Force, Milwaukee's Free & Local food bank and Wisconsin's anti-hunger leader. We'll also give a portion to our friends at Stepping Stone Farms, a local horse rescue and riding therapy facility. Whether it's in-house, curbside to-go or from our Catering Store, it benefits the cause during this time.
Get a $5 "bet" on the race to win prizes starting April 28 at Maxie's. These "bets" are not bets, but a correct selection of Win, Place & Show (that's first, second, or third) entered in a raffle for prizes (all "bets" are for prizes only; no cash will be tendered). Win Prize: Delivered Catering from Maxie's for 20 ($500 value; gratuity not included); Place Prize: Wine Table @ Story Hill BKC for 4 ($400 value; gratuity not included); Show Prize: Family Box from Maxie's online Catering Store ($150 value).
100% of "betting" proceeds benefit the Hunger Task Force. Maxie's annual Derby Day celebration has raised more than $64,000 for the Hunger Task Force since 2011. In 2021, serving with reduced capacity due to safety measures, we raised an additional $3,296 through your generosity.
Check out the Menu
We'll have Derby party favorites like Kentucky Bourbon Barrel Beer Cheese Soup, Pimento Cheese Flatbread, and BBQ Spaghetti. Pick out an entree of our famous Buttermilk Fried Chicken, Bourbon BBQ Salmon, or the signature Kentucky Hot Browns.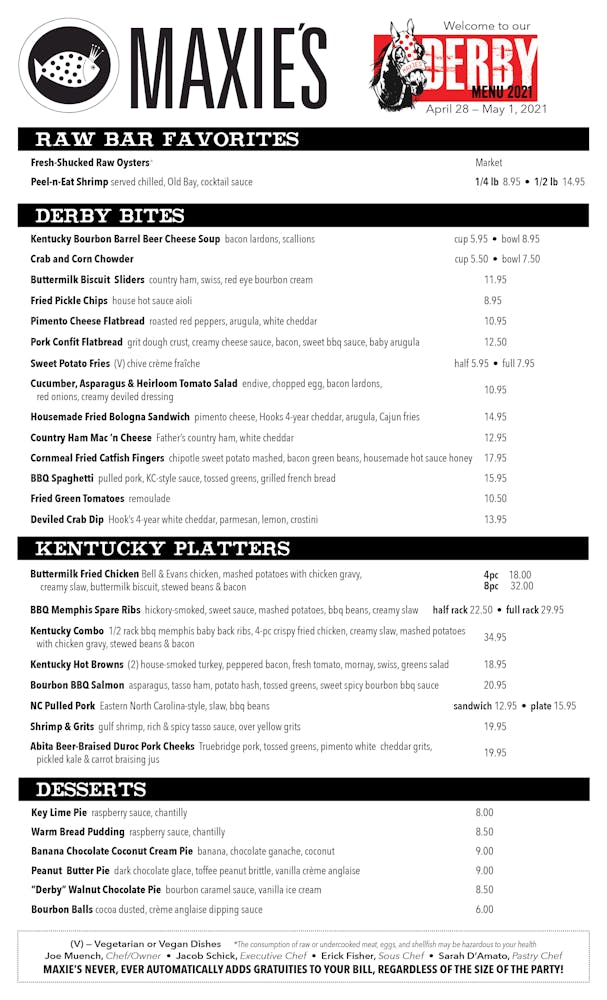 Doing Derby At Home?
Feed your race fans at home with a Derby Party Pack from our Catering Store. Order online with pick up 1-3 p.m. on Saturday, May 1. Packs include signature Kentucky Hot Browns, Buttermilk-Fried Chicken, Mashed Potatoes, Stewed Green Beans & Bacon, Cucumber & Tomato Salad, and Cornbread with Orange Honey Butter.
Be sure to add a Mint Julep Kit to muddle your own, and pick up your very own bottle of Black Shoe's Single Barrel Selection of Wathen's Bourbon. Order your Derby Party Packs by Thursday, April 29.
Derby Party Packs in Maxie's Catering Store